Blogs
Andrew
Synergy: A Bottom Lane Perspective
Thu 31st May 2012 - 8:29pm Category:

League of Legends
The bottom lane mentality is one unique from all the other lanes in League of Legends. It is not like mid-lane or top-lane, in which outplaying an opponent is as much a test of mental and mechanical skill as it is a 1v1 match-up. Nor is it like jungle, where your primary goals consist of clearing neutral creep around the map and setting up ganks for lanes. Bottom lane remains, at least in its iteration within the current meta game, usually a 2v2 battle that requires as much teamwork between lane partners as it does with the rest of the team. Think of it as teamwork within teamwork, or for those of you who'd rather coin it, an inception of sorts.
What's next, creep have feelings within feelings?
My fellow bloggers have already written several pieces on how to best mechanically utilize bottom lane champions. The bottom lane meta game as it traditionally stands as such: one carry, one support. You'll rarely see deviations from this (at least in normals) and so the combinations of champions that can be played in these two "roles" are far and beyond what I can analyze in one posting, let alone one sitting. Instead, I'm going to delve a bit deeper into the mind games of bottom lane, and several things to look out for or practice in-game to make that victory more achievable.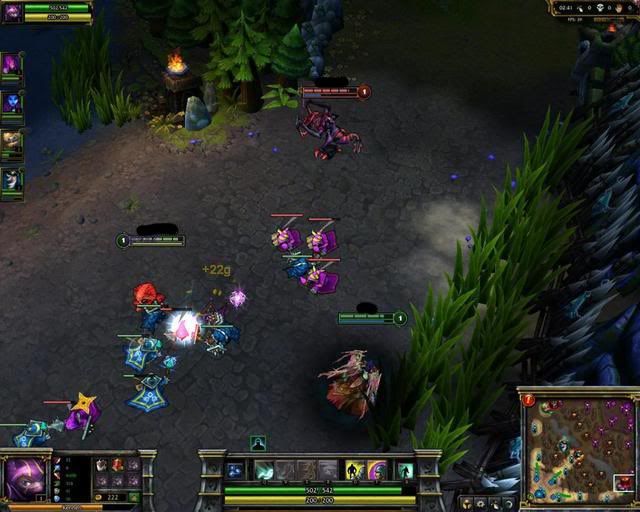 It's a different world down here.
The Passive-Aggressive Game: There is a tradeoff far beyond that of just simple farm denial or zoning. A successful bottom lane properly balances harass with farm, knows when to take risks and is at least remotely aware of when the opposing pair will make their move. Certain champion combinations call for early-game aggression or rely upon a certain skill combination to be effective. But that doesn't mean you have to stick to your "standard" play style. Have a creep advantage and want to scare them into thinking the jungler is nearby, even if your jungler is clearing golems near top lane? Zone them out and push hard. Deny them the ability to ward properly. Make sure you have complete control of your lane and evaluate any potential risky maneuvers with resulting rewards.
The Importance of Awareness: Supports are given the (very important) role of having to ward lane to prevent ganks from jungle or roaming champions. Communication is a major factor here, and plays into whether the carry turns into a pentakilling machine or a water gun later in late game. Be aware of where there (and your) jungle is. Coordinate ganks, call missing champions, all the standard procedures picked up on after many games. This also applies to when you can recall, when you push lane or hold near tower, and other such factors. Awareness is critical when danger lurks in the fog of war, which leads to the next point concerning the abilities of a carry champion.
Smart Positioning: I was told early on in my playing days that the positioning of a carry during a teamfight heavily determines the outcome of a battle. Akin to the support responsibility of communicating effectively, the carry must be in the correct position so as to not be caught and rendered unable to deal much damage. Therefore, it is the carry's responsibility to be aware of what is going on in a fight, react quickly to any given situation, and survive (at least) long enough to dish out as much damage as possible. Why stand next to the enemy tank in a team-fight when you could be a safe distance away, behind your own tank, dealing out damage without fear of death? This combination of good positioning and quick mental aptitude help separate the good carries from the best.
Unpredictability and Efficiency: Overall, these two qualities are what highlight a successful bottom lane paring, and serve as the great equalizer. Partners need to be unpredictable to the enemy, yet still balance one another and communicate with the team. In team-fights, strategically target enemy champions, time wards, keep communicating. The more efficient you are, the better things will unfold.