Blogs
Michael
Interview with Najin Shield HooN: "I want to go up against CLG.EU's Froggen"
Fri 29th Jun 2012 - 7:38pm Category:

League of Legends
Najin e-mFire, formerly EDG, has been around in the Korean scene for a long time. This team, however, has went through a lot of changes recently, and for my next interview, I got a hold of Najin Shield's captain HooN. Some of you might remember him from the NA server under the alias of "sxspp", and he will try to lead his team out of Group A, arguably the most difficult group in the OGN Summer tournament.
Please enjoy the first part of the Najin e-mFire Shield and Sword special!
(Image courtesy of Fomos)
Can you introduce yourself to LoL fans that may not be familiar with you?
Hoon: Hi, I'm Najin Shield's captain and mid-lane AP player HooN. I've been playing for two years. My handle was "sxspp" in the NA server and I played Ryze a lot in that server. I've always liked AP champions even back in the NA server days and I've been playing mid for that reason.
LoL is very popular in Korea. Why do you think that is?
Hoon: Chaos, one of the AoS genre games that's played a lot in Korea, fell in popularity and I think LoL's went up because of that. When LoL started out in NA, not a lot of Koreans knew about the game. But through broadcasted matches/tournaments I think Koreans gained interest in LoL.
Is there a special meaning behind the Sword/Shield names of the two Najin teams?
Hoon: There isn't a significant meaning behind it and they are simple names. Sword plays offensively and dives a lot (especially MakNooN). Shield's style philosophy is the opposite.
What is your favourite AP champion and why?
Hoon: Ryze and Morgana. I've played those champions extensively since the NA days and I think I won a lot of tournaments when I played those champs :)
(I/N: HooN is really famous for his Ryze apparently!)
You beat MVP Red in the qualifiers, and the global OGN website called the match a lopsided defeat for Red.
Hoon: That wasn't really the case for the first match. I think we won because we pushed bot with Twisted Fate when MVP Red was doing Baron. But I think the second game was smooth-sailing :)
Which foreign team/players would you like to face in the tournament? Any Korean teams/players?
Hoon: I want to go up against CLG.EU's Froggen. I think I have a lot to learn :). The foreign team that I would want to face would be CLG.EU and the domestic team would be MiG Blaze because we haven't played them recently.
Mokuza's hair style is ________.
Hoon: Mokuza's hair style is ... ... red pepper paste (I/N: It's a paste that is made with Korean red peppers).
Can you comment on this video?
Hoon: We got destroyed in the first game and the mood wasn't very good. Although we were happy because we had the pentakill and the victory in the second game, we lost the third game :( When I watch the video I can only think of the loss and disappointment from the Round of 8 in the Spring tournament.
What is the difference between the Najin (Shield) team with MakNooN and without him?
Hoon: I think this question has to be answered carefully and there are pros and cons to both. When MakNooN was with us we won teamfights and ended games quickly because he initiated very well. A con would be that because of his call to go on the offensive, we had to follow him. If you watch clips of the previous tournament you may see MakNooN die often because he was charging in while the team with behind him.
Those are old memories that we laugh about and move on, but at that time it was dreadful. Without MakNooN our play is more stable and we work towards a win. But the games end up going on for too long and we are practicing to address that problem.
You are playing against World Elite in your first match on the opening day.
Hoon: We practiced a lot against them. In the TW server we lost a lot. But we won more matches in the KR server, and we are confident against them because we are playing against them in the KR server.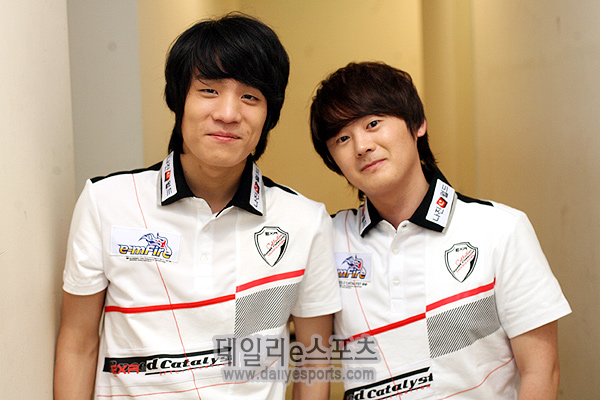 (Expression and HooN; image courtesy of DailyEsports)
Anything to say to the fans? Do you have a Facebook/Twitter account? Do you stream?
Hoon: We do not know how popular we are outside of Korea, but we really want to participate in a foreign tournament in the near future and play against foreign teams. My facebook is http://www.facebook.com/sxspp/ but I don't use it a lot :(. I actually stream on Afreeca and foreign fans can't watch it. I've been trying to get a stream going on Twitch.tv but I don't know any administrators/helpers so that's kind of hard. Lastly, please continue to show love and support for Najin Sword and Shield!
Thank you for reading, and stay tuned for Najin Sword's interview!